Day 2: Heidelberg-Rothenburg
The next morning dawned gray and rainy. I opened a window to watch cars sizzle by on the wet street below: German Mercedes and BMWs, French Renaults and Peugeots, Italian Fiats, and the rare American car, notable for its sheer bulk. Bicyclists pumped around corners towing small, heavily laden trailers.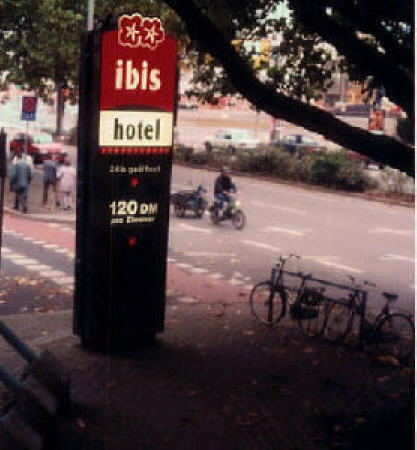 Ondine and I rose late after our nocturnal rambling. After a quick shower, we wandered downstairs to breakfast. Breakfast at the Ibis was "included" for an extra 15DM. In the restaurant downstairs from the ground-level lobby, we found a small table laden with trays of cold cuts, sliced cheese, baskets of breads and rolls, coffee, juice, and a small cold cereal bar. There was probably yogurt too, and cottage cheese, and maybe hard-boiled eggs, but we had arrived very late and the table was picked over. This was my first experience with a German breakfast bar, and it took me a moment to adjust before I dug in, piling a small plate with cheeses, meats, and a wonderful roll. The coffee was only warm, but strong. We grabbed our second helpings as the staff cleared away the buffet.
After breakfast, we walked to the train station next door to call Ondine's former roommate, Desiree. We had forgotten to pack Desiree's phone number, but a call to the local telephone information operator produced it without a hitch. It is easy to find a Deutsche Telecom phone booth in Germany – just look for the bright pink. Desiree, we learned, had just come down with a fierce flu. We decided to meet with her at the end of our trip, several days away. So did our trip take shape: with a beginning and an end in Heidelberg. As for this day, my feet wouldn't enjoy much walking. We decided the best use of the day was to spend it traveling on the train. We bought tickets to Rothenburg, then, with a few hours to spend in Heidelberg, set out to see a few of Ondine's college haunts.
We took the bus to University Platz. We considered the day pass, but realized we would ride the bus only twice that day. If you plan a few more stops or a few more rides, the day pass is a can't-pass-up deal. As it was, we paid our fares and swayed, standing up with the locals, to our stop about a mile away.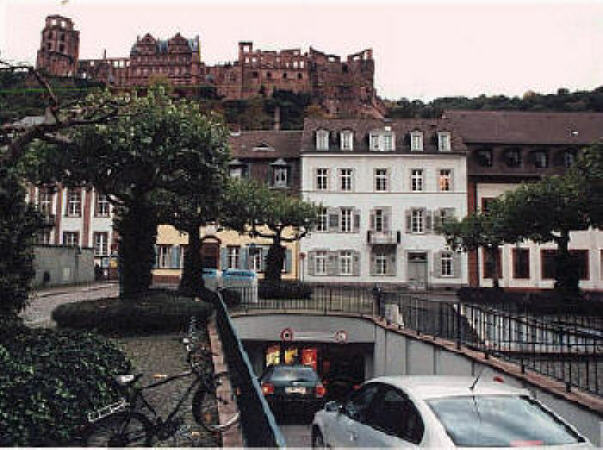 Heidelberg is a college town, an energetic blend of ancient and modern. Fashionable young students shop in glass-and-steel stores beneath second- and third-story tiers of medieval masonry arches and half-timbering. After some comparison-shopping, I spent 4.95DM on a pocket notebook, a token sum for what was to become one of our most valued souvenirs. Ondine had her journal with her. We also bought a few postcards. Ondine was pleasantly surprised to find the American Junior Year program office still where she remembered. We found the room she shared with Desiree, still looking like a place where college students roomed, a short walk from a plaza beneath Heidelberg Castle. Then, we walked back along the Neckar River, looking at the lovely Alte Brücke ("Old Bridge") and watching boats go by. Ondine remembered that, in her wooly years, she and her friends hitched rides up and down the river on the tows and barges.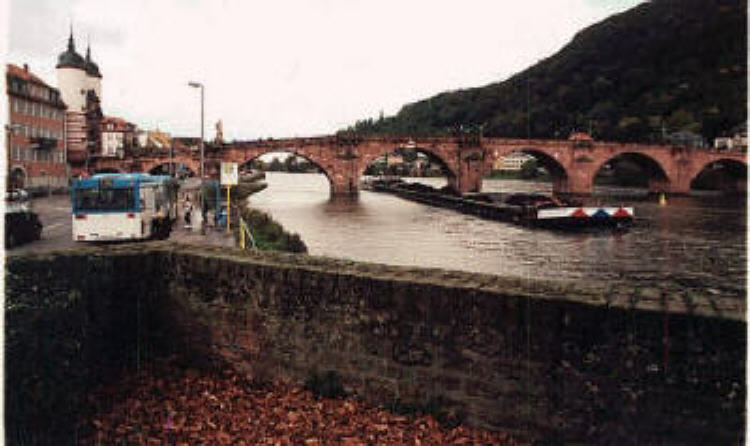 For the classic view of this famous bridge, walk across it. Then take the "Philosopher's Walk" up the hill to a stunning overlook that takes in the bridge and the city of Heidelberg. This is the view you see in books and postcards. We were pressed for time, and the weather was gray and drizzly, so we simply bought the postcards and admired the old homes across the river.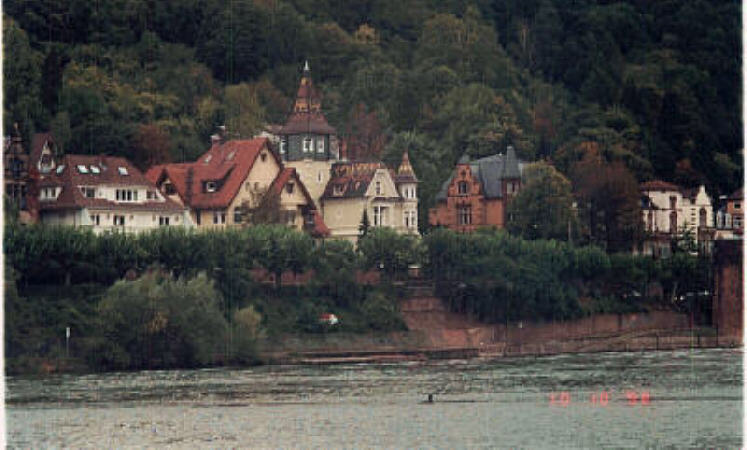 We cut back to the Hauptstrasse and ate a light lunch at Ristorante La Palme, a small Italian restaurant in the shadow of the Heiliggeistkirche. The Heiliggeistkirche is a very large Gothic church with market stalls built into its buttresses, thereby combining religion and commerce several centuries before today's televangelists. In the olden days, this made a lot of sense; you might not want the sermon, but you definitely wanted eggs for tomorrow's breakfast. Today, the market stalls are occupied by hawkers of postcards, refrigerator magnets, and plastic snow-globe replicas of the Heiliggeistkirche. Groups of tourists in plastic raincoats paused to snap pictures as their guides pointed out features with their umbrellas. Then, each group moved on. After lunch, which was excellent, we had to run for the bus, then run for the train – making it on board with little time to spare.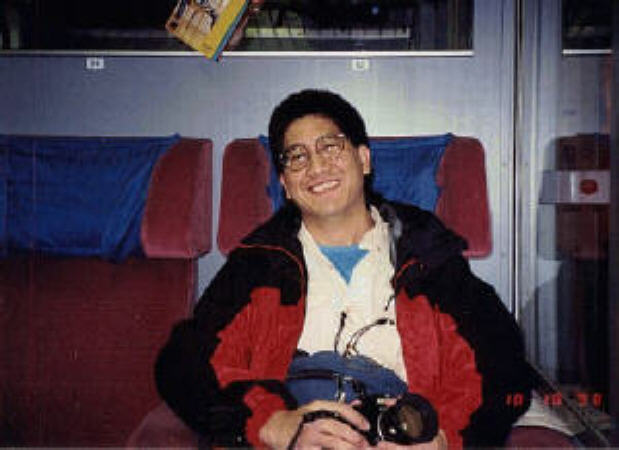 It was the first of four trains we would take to get to Rothenburg. Having been burned twice before, we confirmed each train upon boarding. We had only one bad moment, when the final train from Steinach to Rothenburg seemed to be headed back whence we came. It was, in fact, but all was well. We ate a snack from the café car – an idea more exotic in concept than any pre-packaged, microwaved meal could possibly deliver in reality. Ondine had a beef stew, and I had a ham and cheese croissant.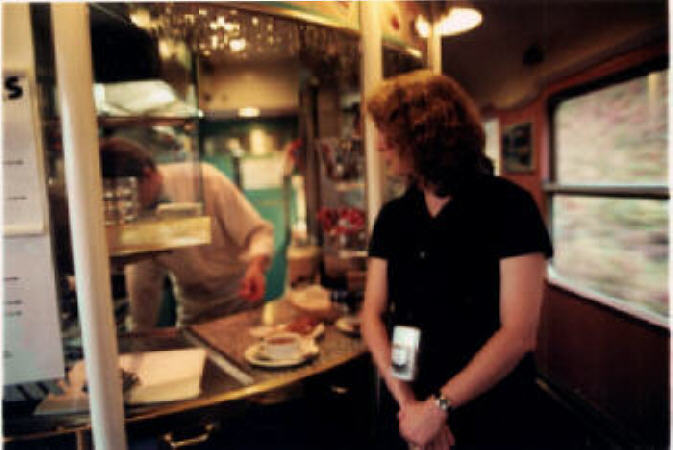 Using the restroom on the train was an exercise in problem-solving. First problem: where is the restroom? Second problem: how to operate the door handle? The answer is not always obvious to those of us brought up not using restrooms on trains. Keeping one's balance is a problem easily overcome, but then comes the problem of flushing. To the uninitiated, a German railway car toilet flush apparatus is as obtuse as it sounds. I hopefully prodded and pulled at many random fasteners, screws, and fittings before discovering the operative control.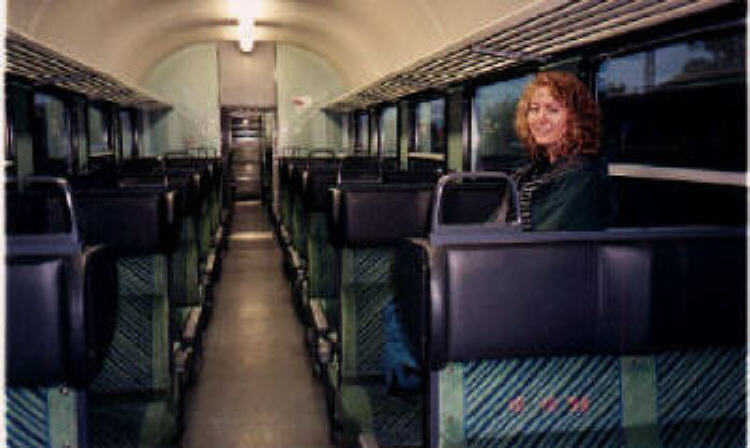 We arrived in Rothenburg at about 7 pm. It was raining and cold, and the Reiseburo office, where we had hoped to get hotel information, was closed for the day. We asked a woman entering the train station if she knew a place to stay. She sized us up in a glance – disheveled, carrying daypacks, obviously not locals – and recommended the youth hostel. We thanked her gratefully (her appraisal of our age was generous, especially under the circumstances), but a hostel was not where we wanted to be unless absolutely necessary. We walked across the street to the Rothenburger Hof. They had a room available for 100DM per night, with a bathroom and including breakfast. We hesitated. The young woman behind the counter added, helpfully, that she had just called around for someone else, and this was the cheapest room in town for the night. We looked out at the rain, coming down in sheets. We looked at each other. We took the room.
Our room was in an outbuilding. It shared a tiny foyer with another room, and required two skeleton keys: one for the foyer, and one for the room. We never got the hang of inserting the key just far enough to catch the tumbler, and always fumbled a bit getting in or out.
In contrast to the compact sleekness of our room at the cosmopolitan Hotel Ibis, our room at the Rothenburger Hof was sprawling and offbeat. A clunky armoire served as closet, and the rest of the furniture looked like the late 1970s. The bathroom was tiled in huge brown squares with harvest gold and beige, except for the floor which was brick. Everything was clean and orderly, and there were huge mounds of comforter on the bed. On a shelf in an oversized desk, we found a book left behind by some previous traveler – Norwegian? Dutch? We left it and went to the hotel restaurant for dinner.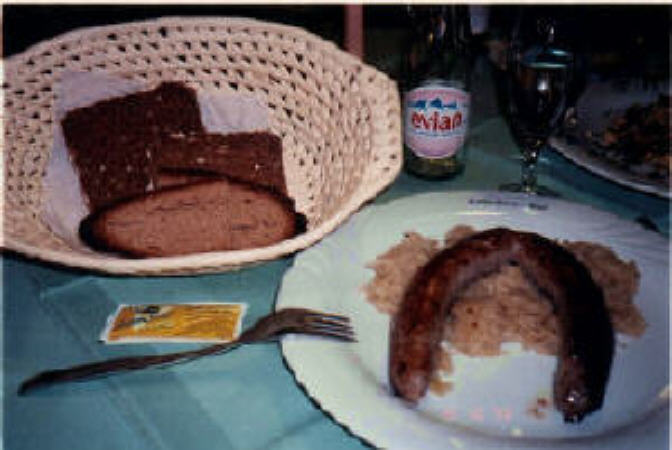 I had been looking forward to a German sausage dinner since our arrival in Germany. Tonight, I enjoyed a Franconian sausage on a bed of slightly sweet sauerkraut, accompanied by crusty breads. Ondine had a locally harvested mushroom-and-egg dish. You'll notice an Evian water bottle in the photo. In Germany, if you ask for water, you get a small bottle of mineral water costing about 2 DM. From here on, we filled our bottles with tap water from our hotel rooms and took our own water with us into restaurants – that's one tip. For dessert, we shared a rote gruze, a fresh puree of tart red berries around rich ice cream and surrounded by finishing cream: absolutely delicious and highly recommended – and that is tip number two.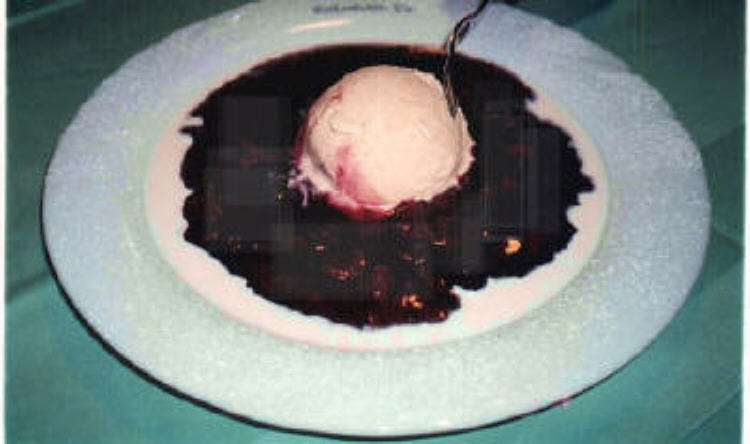 Next: Day 3: Rothenburg | kuraoka.com | kuraoka.org
UPDATE, SEPTEMBER 2004: It has become painfully obvious that the next several days of this trip are not going to be transcribed from my journals any time soon. BUT, a lot has happened since this trip, including two kids. So, fast-forward to late 2004 and read about our family's six-week house-swap in Mülheim, Germany. It includes a road trip to Heidelberg, our experiences with day-to-day life in the suburbs of Germany, and the wonderful attractions of the Ruhrgebiet. (And yes, this travelog is actually finished, with with much better photos, six photo album pages with commentary, twice-weekly journals, and even downloadable videos!)