England, June 1999
Text and photos © John or Ondine Kuraoka
Ondine was researching airfares for October, and she asked when was the cheapest time to fly. The travel agent said "how about this Friday?" That was on Tuesday, June 8th. On Friday the 11th, we were flying a United Airlines 777 to London Heathrow.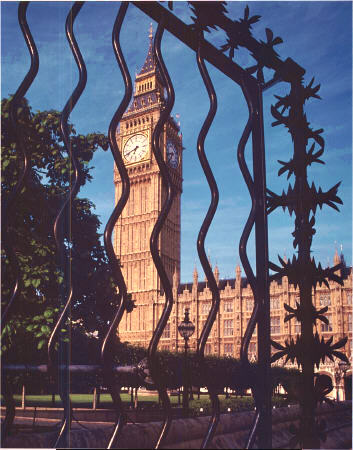 We had 13 days in England. We stayed two nights in London, three nights in Bath, one night in Bourton-on-the-Water, then six nights with Ondine's cousin's wife, Nancy, in her home 45 minutes outside London - thanks Nancy! Also, we visited Old Sarum, Stonehenge, Lacock, Biddestone, Castle Combe, Leeds Castle, Cambridge, and Canterbury.

We packed light - 11-pound daypacks for each of us. Our packs contained layered clothing for any weather condition. England, perversely, was sunny and warm almost every day. We used our fleece underwear only while we laundered our other pants and shirts, and were grateful to have pants with zip-off legs.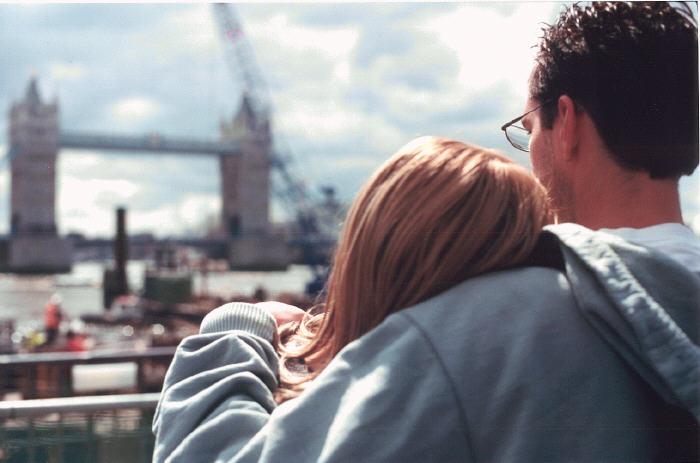 There is enough in London to play tourist for two years. We had less than two weeks. We saw Westminster Abbey*, Houses of Parliament and Big Ben, the British Museum, Kensington Park and Gardens*, Prince Albert Memorial, Green Park, Hyde Park, St. James Park, Speaker's Corner, Marble Arch, Trafalgar Square, Piccadilly Circus, Barbican Center, Cabinet War Rooms*, a boat ride on the Thames, Harrod's, Tower of London* and Crown Jewels, Tower Bridge, and Buckingham Palace (* = four favorites).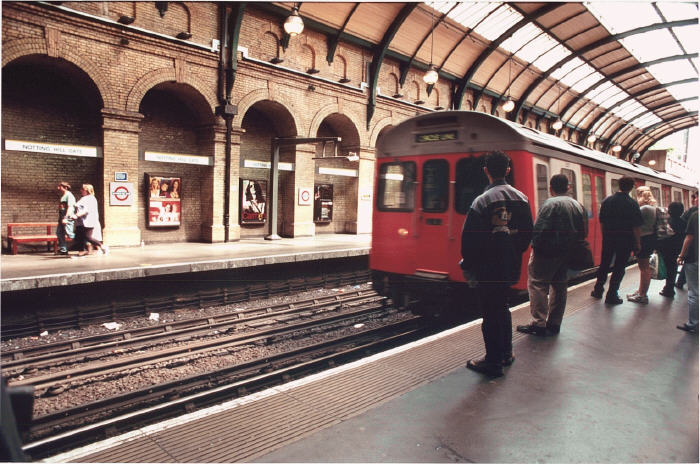 We got around via Underground and train, and walked a lot, including three guided tours - "London Panorama," "British Museum," and "Ghosts of the West End." This picture of Notting Hill Gate station was taken the day -- possibly the very hour the Circle Line unexpectedly went down for two months of renovation. The Circle Line, like it sounds, encircles the center of London. It's one of the most-heavily traveled lines on the Tube, and its sudden unavailability left Londoners as lost as we tourists. Lines ran long at information counters and encircled harried Underground employees as local businesspeople tried to figure out how to get from here to there using a combination of sometimes tangental Tube lines and connecting buses.

During our weekend with Nancy, she graciously drove us to Leeds Castle (imagine a romantic castle in the middle of a lake, and that's Leeds), Cambridge (where we went for a guided punt along the River Cam), and Canterbury (where service was in progress and our spirits soared to the choir music).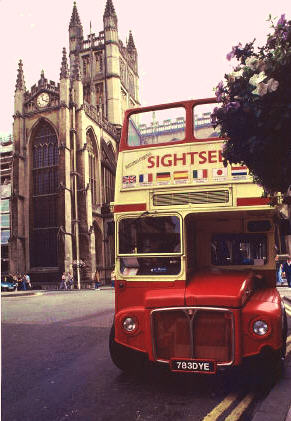 Bath felt like a fashionable resort town. The Circus and the Royal Crescent - upscale neighborhoods since the 1700s - were impressive both for their graceful architecture and for their many notable residents past and present. We had a "famous" Sally Lunn Bun - it's bread, no matter how you slice (or market) it. We particularly enjoyed our tour of the Roman Baths. In the pump room above the baths, we each drank a glass of Bath water (supposed to be a cure-all). It was warm, and tasted like tap water with a pinch of salt and a bit of dissolved aspirin. Still, we must say that our health remained strong for the entire trip.

From Bath we took a day-tour to Old Sarum, Stonehenge, Lacock, Biddestone, and Castle Combe. Old Sarum is the site of an iron-age hill fort and city near Salisbury ("New Sarum"). Walking the remains, it's easy to imagine the bustle of life on this now-barren and windswept hilltop. When Bishop Poore moved the cathedral off the hilltop, the city soon followed. From the hill you can see the outlines of the old cathedral, and Salisbury Cathedral (with England's tallest church spire) far below.

Stonehenge was more impressive in-person than it is in pictures. It is roped off, which makes it look awesome and desolate. Lacock is owned by the National Trust. Despite its authentic history, it feels like the movie set it frequently is. Castle Combe bills itself as "the prettiest village in England." It is indeed picturesque, a cute double-row of pretty cottages tumbling down to a wooded stream. On our return, we saw two of the Wiltshire White Horses, horses etched into the chalk hillsides. Many of these were covered up in WWII, because they were seen as potential landmarks for enemy bombers. Many remain hidden still.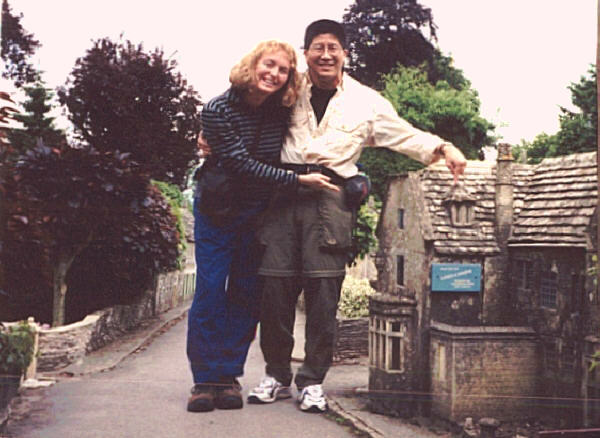 Bourton-on-the-Water, about 90 minutes out of Bath via the new Cotswold Link bus line, is not in most guidebooks. But, it was the prettiest place we saw. The River Windrush winds through town, crossed by five stone bridges. Behind the Old New Inn, where we stayed, is a 1/9-scale stone model of the town. You can see us pointing to our hotel room. The miniature churches have choir music playing and working clocks in the clock towers, and the shop windows have displays. The model even includes the model! Bourton also has an excellent model railroad exhibit, a museum of miniatures, "Bird Land," a walking maze, and a wonderfully dusty automotive and toy museum and museum of old village life ("dogs welcome"). There's enough in Bourton to spend two or three nights. We had only one night. Unique among small old towns, Bourton is relatively accessible to people in wheelchairs.

More pictures as soon as I get my slides scanned! (Update December 2007 - nearly eight years later, and still no slide scanner.)

Back to the Photo Gallery page
Back to kuraoka.com
Back to kuraoka.org