www.kuraoka.com
(619) 465-6100
Ad Blog: news and views about advertising, branding, marketing, and copywriting
2018
Quick finder (main website):
Home | Advertising portfolio | Brochure portfolio | Services | Experience | FAQ | Advice | About me | Contact
Quick finder (advertising blog only):
Ad Blog main page | Monthly archives | Forward to 2019
---
December 14 2018
When is a logo a logo? When it's not merely a "collection of geometric shapes," according to the U.S. Copyright Office. Here's the story about American Airlines' two-year fight to get its logo copyrighted, from the Los Angeles Times:
Advertising copywriter blog link

I like how the agency's commentary went on to say that the logo lacked creativity. Everyone's a critic.
The thing is, sometimes designers – and copywriters – get too clever for their own good. This logo, for instance, is said to integrate wings, an eagle, red white and blue, a star, and the letter "A" for American and Airlines. Which sounds brilliant, except that all of it works only if you pay equal attention to the white space (in keeping with the red white and blue thing), which, in turn, all but ensures that only designers will appreciate its creativity.
Well, designers and those in on the presentation.
Back to the top of the page
---
May 14 2018
The California Supreme Court has weighed in on the definition of an independent contractor, a key finding for every freelance advertising creative. Here's the story, from my hometown San Diego Union-Tribune:
Advertising copywriter blog link

While the gig economy has enabled huge opportunities for independent contractors, it has concurrently enabled systematic abuses, hence the need for clarification to protect companies and contractors alike.
Here's a key snip from the article:
A worker is considered an independent contractor only if the hiring entity meets each part of an "ABC" test: (A) The worker is free from the type and degree of control and direction the hiring entity typically exercises over its employees; and (B) The worker performs work outside the scope of the hiring entity's business, and whose work therefore would not ordinarily be viewed by others as working in the hiring entity's business; and (C) The worker is customarily engaged in an independently established trade, occupation, or business, taking such steps as incorporating his business, getting a business or trade license or advertising.
I've been a freelance copywriter for nearly three decades; that's long enough to have been an independent contractor when such beasts were few and far between. And I have some thoughts about the "ABC Test."
It seems to me that part B in particular could prove chilling to advertising agencies using freelancers to meet project-based needs. After all, art direction and copywriting are part of an ad agency's core business; as such, would using freelance creative teams put the hiring agency at risk, especially if internal teams are also put on the same projects?
As a freelance creative, I would argue that I'm brought in specifically to fill a gap in an agency's in-house capabilities – specialized expertise or industry experience – something beyond just being another pair of hands on the deck. I suppose, from the hiring ad agency's perspective, that's a potential benefit to hiring an industry veteran.
This is less of an issue dealing with design firms, where the core business is design rather than copy, or PR firms, where the primary product is PR and not advertising. And, of course, it's a non-issue when clients hire me directly, which, frankly, is the way the business has been trending over the past ten years.
Back to the top of the page
---
May 10 2018
My son and I flew to Colorado Springs last week for his college orientation and registration. We flew Frontier Airlines. Frontier gets a bad rap because of its lack of amenities and abundance of upcharges, but I found the airline's website to be transparent; it was a cinch to pick and choose what we needed.
Among the things Frontier charges extra for, are in-flight snacks. And, landing back in San Diego, low-fare rival Southwest Airlines wasn't letting anyone flying Frontier forget about that. Yes, this was what greeted our flight as we pulled up to the gate. Look closely at those three service trucks.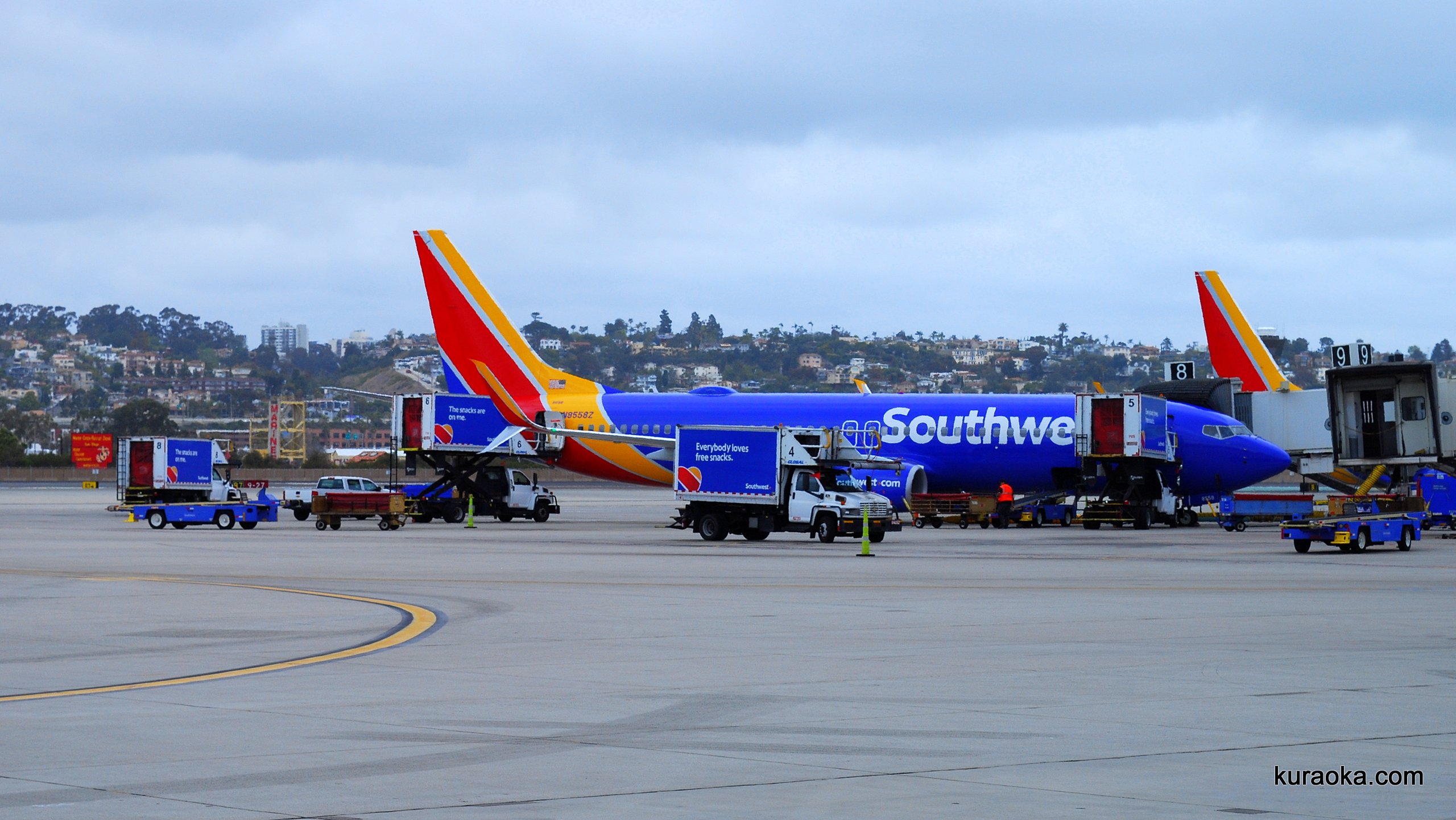 This is brilliant on-site guerrilla marketing. All it took was a bit of vinyl. The insight to see the opportunity. And concepts.
Back to the top of the page
Backwards in time to September-December 2017
---
My experience as a copywriter.
Main page | Advertising portfolio | Brochure portfolio | Consumer goods | Eco-friendly products | Food services | Healthcare | Hospitality & tourism | Internet | Manufacturing | Packaged goods | Real estate & construction | Retail & restaurants | Service | Technology
Answers to frequently asked questions.
Why should you hire me as your advertising copywriter? | FAQ
Advertising & marketing advice.
Advertising strategy and other lies
An advertising copywriter's bookshelf: recommended books
Brands and branding: a white paper
Do you make these mistakes in advertising?
Free (yes, free) advertising copywriting resources
Four ad copy traps that ensnare even experienced copywriters
How to become an advertising copywriter
How to take your copywriting portfolio to the next level
How to write a brochure: advice from an advertising copywriter
How to write better ads
Long John Silver on writing ads
More career advice: what's it like being an advertising copywriter?
Napoleon's advice to entrepreneurs, Part I: starting the enterprise
Napoleon's advice to entrepreneurs, Part II: the entrepreneurial character
Napoleon's advice to entrepreneurs, Part III: growing the enterprise
The ART of repurposing marketing copy (Or, why you shouldn't use brochure copy as web content)
The economy (and what to do about it)
The Tightwad Marketing project
When you should consider hiring a freelance copywriter
Advertising copywriting mentorship
Back to the top of the page
Me, me, me.
Awards & honors | Curriculum vitae | Services
Email me.