www.kuraoka.com
(619) 465-6100
Ad Blog: news and views about advertising, branding, marketing, and copywriting
October-November 2013
Quick finder (main website):
Home | Advertising portfolio | Brochure portfolio | Services | Experience | FAQ | Advice | About me | Contact
Quick finder (advertising blog only):
Ad Blog main page | Monthly archives | Forward to January 2014
---
November 23 2013
I signed up for a free sample pack of tea from Twinings Tea in a recent promotion. Apparently, I'll gladly give up my home address for my choice of three good teabags (and Twinings generally has good tea). Yesterday, the packet arrived, a nicely designed mailer that tied in with the website on which I'd signed up for the offer.
Unfortunately, the mailing people decided the packet needed two stickers and three glue dots to adequately seal the package. One glue dot was placed in the copy block, and another was dead center and in the main image. So, that clean, branded look and feel became, well, somewhat savaged in the opening: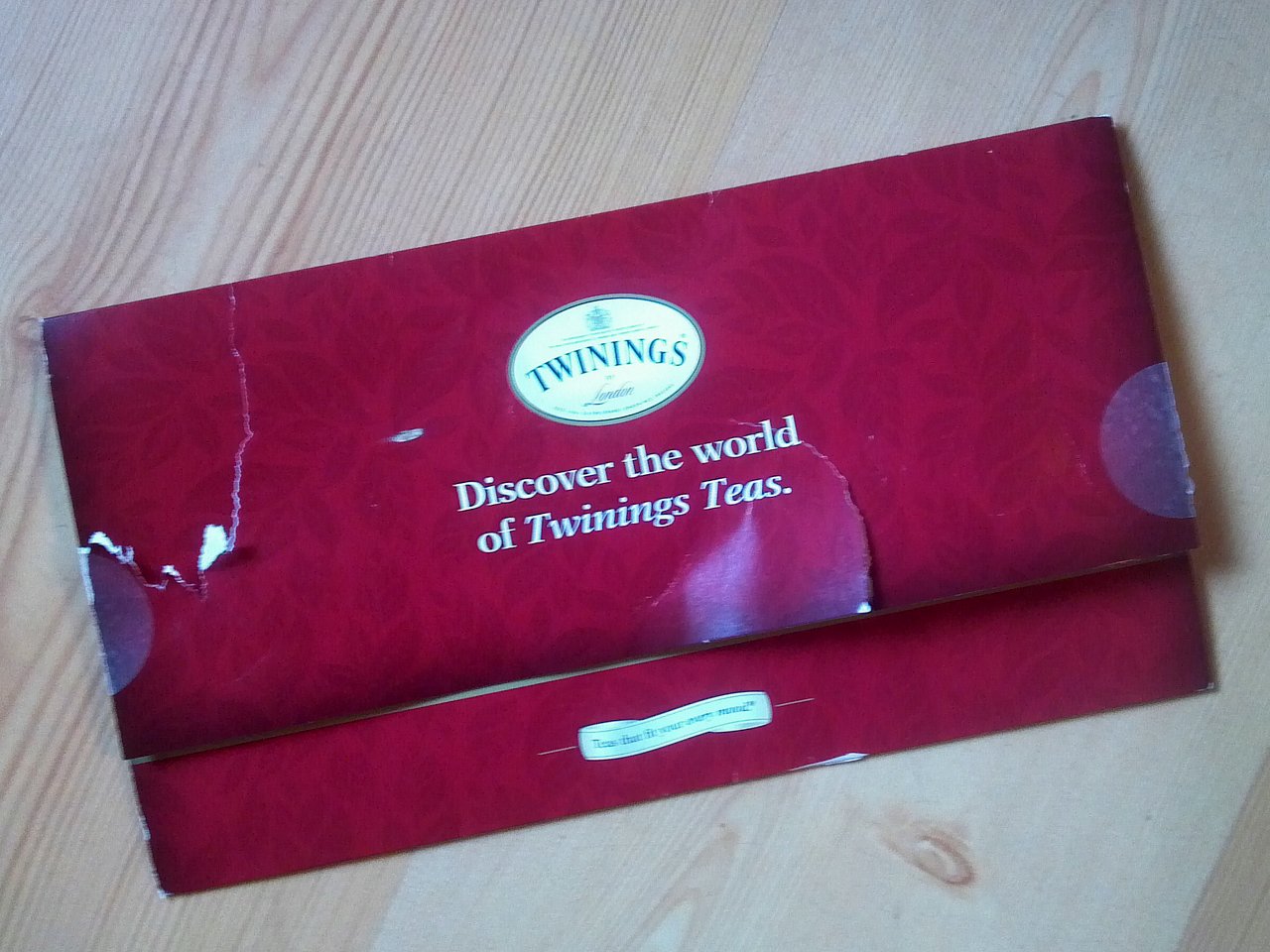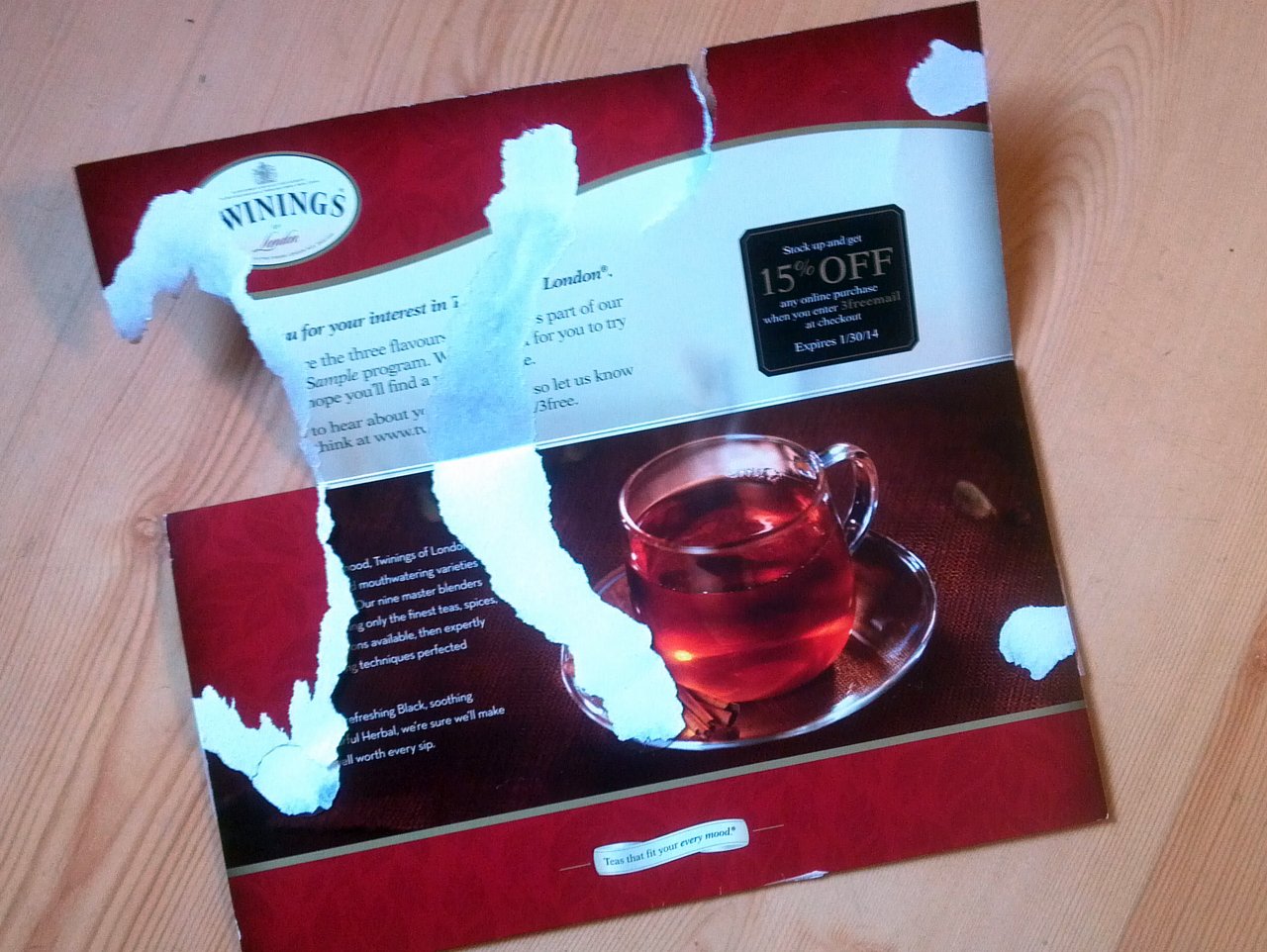 Note the bits shredded by the glue dots. Below that second panel are the teabags, themselves securely and massively glue-dotted in place.
This is what I mean when I talk about tactical considerations being built into the strategic and conceptual phases of a project. Had the art director known such triple-sealing would be necessary, the design might have accommodated it with more grace. Or, had the mailing house really understood the design implications, it might have chosen some other place for those glue dots, or some other way of triple-securing the load. But it looks like the creative team and the mailing team worked in relative isolation, probably collaborating second-hand via the media department.
We're in the business of communication. But at times we fail ourselves.
Back to the top of the page
---
October 4 2013
Honda has gone social to showcase a new feature in its minivan. The cool thing, is that Honda deliberately engaged other brands and allowed other brands to engage with its campaign. Here's the story, from NBC News:
Advertising copywriter blog link
The concept, like Honda's "Darth" TV commercial, far exceeds the feature itself – remote starting, vacuum cleaner, nothing breakthrough there. But the creative took those rather prosaic features and dressed them as cool, if not actually cool. I also love that the social component broke the fifth wall, between advertisers, to reach out and play with them on a peer-to-peer level.
My only question is: Is the target audience watching and connecting? Or is the whole campaign just a mutual admiration circle for brands, with Honda pulling the train?
Setting aside strategy, I think the campaign is tactically innovative and fun. And, it stands as proof, once more, that there are no dull products or dull features, only dull ads.
Back to the top of the page
---
October 3 2013
Doing pro-bono work is often a way to not only call attention to a worthy cause, but also to do some great creative work. Here's a great article about charities and branding, from BBC News:
Advertising copywriter blog link
Non-profits generally have terrific stories that too often are left off the table when it comes to their branding and advertising for fear of controversy. Yet, those stories are key components of the brand heritage and the very foundation of the corporate identity.
Branding is part of the communication process at a basic, almost primal, level. Branding is emotional. Branding tells what you stand for, and what makes you different from competing interests.
It's no wonder that the most-successful non-profits are also highly successful brands.
Back to the top of the page
---
October 1 2013
I have two for you today. The first features advertising giant Martin Sorrell arguing for greater cooperation between believers in big data and believers in big ideas, from B&T (Australia):
Advertising copywriter blog link
Yeah, there's a risk that having lots and lots of information can quash innovation. Still, I think data is essential at the beginning of the creative process, to deliver insights about the customer and the competition. Business intelligence can add power to creative intelligence both by sharpening its focus and by supporting the development of relevant, fresh ways to communicate.
Next up is almost an opposite story, about how an internal passion project turned into much, much more for a small creative shop, from the Portland Business Journal (OR):
Advertising copywriter blog link
No commercial data supported the creation of "4 Rules to Make Star Wars Great Again." It was just a house project, something fun to work on, a way to show off their collective chops. And, most important, it was something they felt strongly about, and not in a cure-for-cancer sort of way. The result is an irresistible calling card for the company that has nothing to do with the company itself – and yet everything to do with it. That's the beauty of it.
All the research in the world wouldn't have made it better.
Back to the top of the page
Backwards in time to September 2013
---
My experience as a copywriter.
Main page | Advertising portfolio | Brochure portfolio | Consumer goods | Eco-friendly products | Food services | Healthcare | Hospitality & tourism | Internet | Manufacturing | Packaged goods | Real estate & construction | Retail & restaurants | Service | Technology
Answers to frequently asked questions.
Why should you hire me as your advertising copywriter? | FAQ
Advertising & marketing advice.
Advertising strategy and other lies
An advertising copywriter's bookshelf: recommended books
Brands and branding: a white paper
Do you make these mistakes in advertising?
Free (yes, free) advertising copywriting resources
Four ad copy traps that ensnare even experienced copywriters
How to become an advertising copywriter
How to take your copywriting portfolio to the next level
How to write a brochure: advice from an advertising copywriter
How to write better ads
Long John Silver on writing ads
More career advice: what's it like being an advertising copywriter?
Napoleon's advice to entrepreneurs, Part I: starting the enterprise
Napoleon's advice to entrepreneurs, Part II: the entrepreneurial character
Napoleon's advice to entrepreneurs, Part III: growing the enterprise
The ART of repurposing marketing copy (Or, why you shouldn't use brochure copy as web content)
The economy (and what to do about it)
The Tightwad Marketing project
When you should consider hiring a freelance copywriter
Advertising copywriting mentorship
Back to the top of the page
Me, me, me.
Awards & honors | Curriculum vitae | Services
Email me.
Call or fax me.
Phone and fax: (619) 465-6100
Write me.
John Kuraoka, freelance advertising copywriter
6877 Barker Way
San Diego, California
92119-1301